Share
with your friends!
*
This post has been updated > V-Ray Caustics V2Â !
*
I went on holiday, I spent two wonderful weeks in Zante – thinking in a V-Ray Sea Simulation – and I must confess it: these days I was particularly attracted to those amazing play of light that you see on the bottom of the sea and swimming pools.
This is a physical effect that takes the name of "Caustics" and you have probably already read somewhere that you can simulate this effect with V-Ray. Let's see how.
The light passes through a curvee and transparent body (glass, water ..) , so the light will tend to concentrate it in some areas. (Read a full explanation of caustic )
Very often we create material "Water" material using "Affect shadows" option. In this way the light passes through the object. If you do not want the caustics this  is a good solution. If you want to simulate the caustics mark "on" here:
Panel rendering (F10) > Indirect Illumination> V-Ray Caustics > ON [X]
Here a little explainiation of the main 4 parameters you'll find there:
Multiplier: caustic intensity  (1,0 default = ok)
Search dist: projection distance (..follow the tutorial)
Max photons: maximum number of photons used to calculate (10 = ok)
Max density: Resolution limit (0,0 default = ok)
CAUSTIC SUBDIVISION parameter:
It 'important to manage the details of the caustic. It is governed by the value "Caustic subdivs." you can find by clicking on Light Setting in:
– Rendering panel > Setting > Light Setting (at bottom) and checking the light: Direct Sun, in this case.
Note: In this V-Ray version I use  I prefer to use "direct light" because it works better than VRaySun
(In the attached file, "Caustic subdivs." setting is 30000. It's high enough to get sharped caustics. Attention: for your first test you can start using "3000".)
As you know I love simple explanations, and especially love the "results" without too many technical and mental complications, so let's concentrate on the main actor. Do you know who is?
>>> It's the WATER SURFACE!
"Create a good water surface in order to get a realistic caustics effect"
Without a suitable surface the effect is never pleasant. Surely there are many ways to make a good surface that simulates the water, in this tutorial I do so:
I create a box with a high number of subdivisions (1cm thick)
I apply the Noise modifier with "fractal" active (Z = 1cm)
You just turn on the caustics and assign to Search. dist. a suitable distance to let the caustics "reach" the bottom. (Eg.: If the pool is 200cm deep, setup Distance search = 300cm, this value will be more than sufficient.)
In this render I just use "affect shadows": It seems the sun doesn't penetrate the water!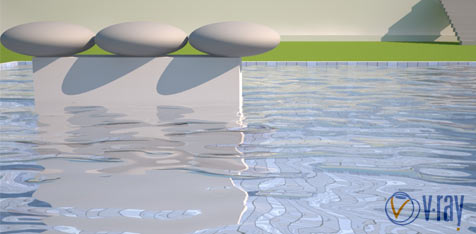 But if we activate the caustics, thus allowing the light to cross the water, generate caustics, projecting towards the bottom and upwards … then the result changes! (Unfortunately, also the rendering time)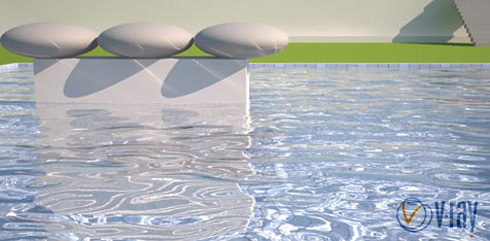 I hope you liked my simple tutorial about V-Ray caustics!
*
This post has been updated >Â V-Ray Caustics V2Â !
/ Also
Learn Corona Renderer