Share
with your friends!
Do you think these images below are completely different?
They are not. Read more!

5SRW trainings are special because they can be redone in case of similar light conditions. This case is about Yamit's scene, mainly composed of diffused day-light therefore the reference model is The Living and we can use its SAME settings.
ANALYSIS | The Living – Yamit Aroya
Gamma compensation:
Check lesson#2.
STEP1 – Shot
In this shot can be recognized 3 important composition elements. In order of importance:
3 layers;
Central Perspective;
Diagonal line.
3 Layers
Yamit has built 3 well distinct layers. We can define three areas: 1) The "Esedra Frau" in foreground, 2) chairs and table are the focal point, 3) the library on the background. Thanks to this well thought hierarchy, the observer instantly catches the image structure. Click on Picture below:
Central Perspective
Central perspective is governed by a single vanishing point. It's a strong composition tool and therefore also widely used as it allows to use the perspective lines (converging in focal point) to give strenght at image structure. In these cases, we recommend always using medium focal length (24-70mm). In this scene is 36mm.
Diagonal line
A strong element that diagonally crosses the frame, broking the rigid structure of parallel lines, always creates dynamism in the image. In this case the diagonal line is formed by the stairs in background. Think about it: every time we have stairs in, the shots are much more interesting. Because, even without knowing it, we use it instinctively as "Diagonal".
STEP2 – Light Balance
REFERENCE MODEL: "THE LIVING" (complete training)
Windows are large enough compared to the environment to be lit, this means that there will be a good amount of light and we don't need any additional light to complete lighting set up: standard (V-Ray Sun) and its SkyMap (VRay Sky) are enough.
If we want to render this scene with the curtains, then we must use for strength of V-Ray Light type portal (simple), as shown in Lesson#28.
Here the main features:
Exposure: V-Ray Physical Camera: shutter speed = 50 / white balance = Neutral
Lights: V-Ray Sun + Sky (default)
Draft Render Settings: Check Lesson#2
The other lights that are seen not have any impact on general lighting, in fact, are more to be considered as a bright detail.
V-Ray Portals to the openings are not necessary, as the direct light enters through a few meters inland, so their impact would have be irrelevant. We saved a little time to compute. If you have forgotten the concept of V-Ray Portals remember that it is well shown in Lesson#28.
STEP3 – Materials
Most of the materials are already covered in lesson#8, which is a lesson also suitable for those who are beginners. Let's highlight the material of the chair "Esedra Frau" in the foreground:
Other References:
STEP4 – Final Render
In this step we simply have to make the picture clear and sharp. At this point in the workflow the image CAN NOT be prettiest, so if something is wrong we should correct it in previous steps.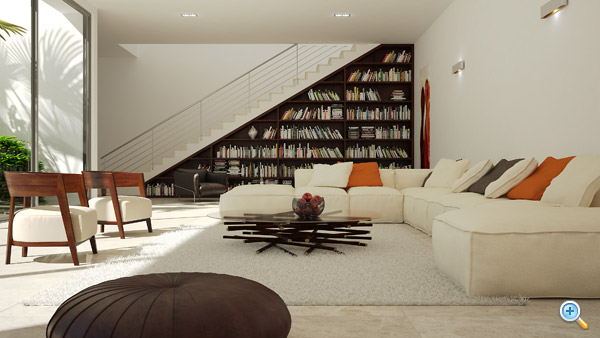 In this image we simply applied the "Final Render " settings of Lesson#2.
STEP5 – Post Production
And here the final result: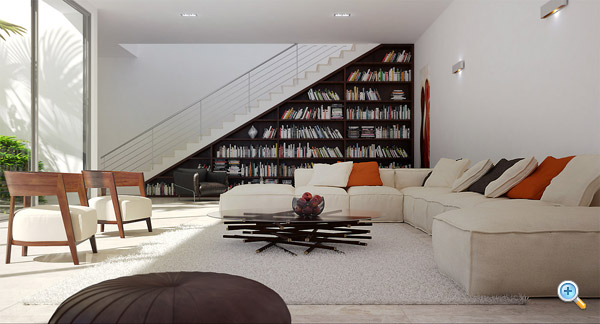 In this post-production I performed "White Balance 1-point", as shown in Lesson#30.
Since Yamit has created a clear-cut distinction between the three levels I decided to emphasize this distinction putting out of focus (manually with photoshop) the Esedra Frau in the foreground.This is the main reason why in this case the blur in the foreground produces an effect so pleasant, also increasing the perception of the whole scene depth.
I enhanced the contrast with Constrast Mask (High: 100px + 10% intensity)
At the end i improved the clarity with the Unsharp Mask (Small: 1px + 80% intensity)
Steps in 5SRW for Post production are always::
Light Balancing;
Contrast;
Sharpen.
FILES TO DOWNLOAD:
Max File - DOWNLOAD 3D VOLUME (max 2010 format) /try it with your furnitures
Psd File – DOWNLOAD THE PSD FILE
Other infinite combinations possible with Photoshop are left to your imagination.
While in 5SRW we study only precise and replicable techniques.
* * *
– Our trainings are based on LIGHTING MODELS –
Use our configuration to create your scenes in the same light conditions.
Do you want to learn our new concept?
Subscribe NOW
/ Also
Learn Corona Renderer