Share
with your friends!
Hey guys! How are you today? 🙂
I'm going to talk about VRay Fur and the new  VRay Hair Material.
I want to show you how to create a shader very similar to the wonderful Sullivan's fur in the movie Monsters, Inc. (Pixar):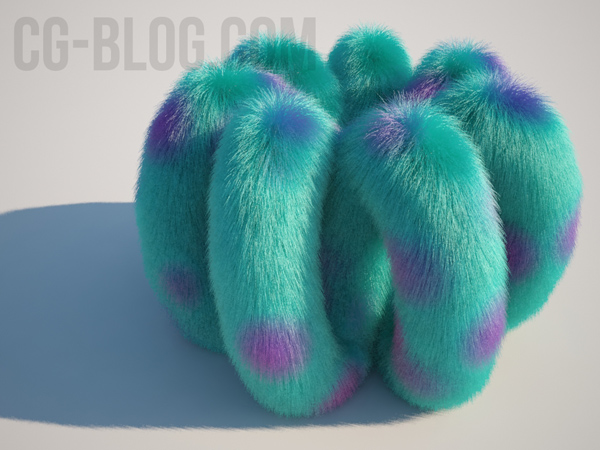 * VRAY-HAIR-MTL > V-RAY version 2.20 (minimum) required  *
Do you want to know more about? 😉
Although it may seem complex and only for super-nerd-experts… this result is really simple to achieve and you can create a lot of nice objects with Monsters&Co look after this little tutorial! Your friends and your colleagues will admire you I'm sure!
If you're a boy, your girl friends will love you on facebook… if you are a girl.. mhhh.. let me know! 😀
Ok, enought taking.. Lets' start.
The START scene just include a V-Ray Sun, basic settings for Global illumination and a Torus Knot whith some genetic modification! Nothing new, nothing special until now. If you just click render you'll get someting like this: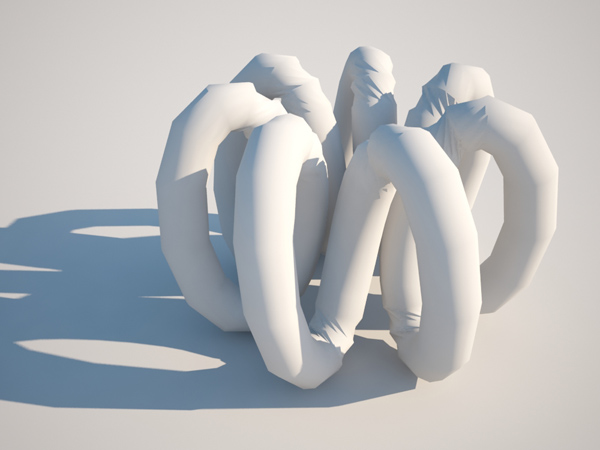 At first Select the TorusKnot object, then go to > Create > VRay > click on VRayFur.
You'll see something like this in your viewport: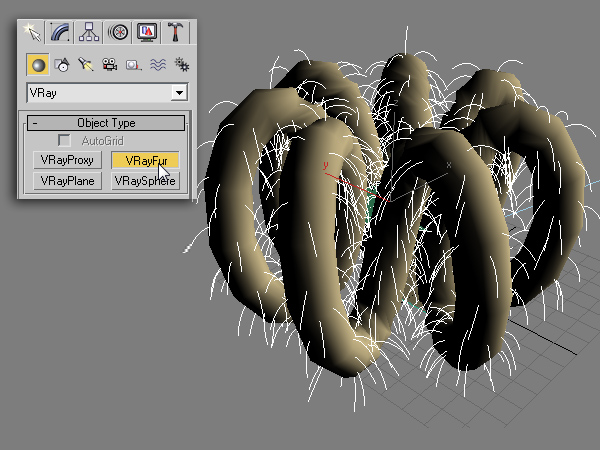 Let's adjust some parameter of VRayFur (check the commentaries!):
Lenght: 14cm
Thikness: 0,1 cm
Taper: 1,0
Knots: decrease to 6 (reduce the segment of a single hair to save memory)
"Per Area": increase to 8,0 (take care with option! This to get a lot of hairs. For tests start from 2,0)
Note: VRayFur should need more memory – If you need more memory, avoid "unload geometry" by setting > Render Panel > Settings > Dynamic memory Limit = 4000 (for me this works fine)
This is the render with a generic V-Ray Material (In VRayFur, "per Area" = 2,0)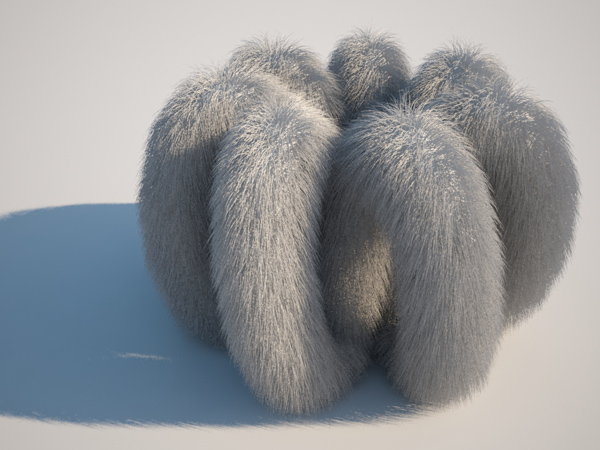 Now it's time to create this funny shader:
I just mixed two VRayHairMtl using a standard BLEND material.
The map I used to mix them into 1 material is "Cellular".
Click on the image below to have a clear idea of this simple structure… easier to see than explain, as usual!
To get a more brilliant "VRayHair" I just increased Primary Specular to Rgb 130,130,130
To get green and violet hairs I modified "trasmission" option in VRayHair
To get a "polka dots" effect I manipulated Cellular options
Set you materials following the red boxes, add this shader to the VRayFur object and click render!!!
And that all folks, my friends, so easy! 🙂
TIME FOR SHARE!
Create your objects with "Monsters&co look" and share them your renders on Facebook, twitter, Pininterest and PLEASE also share this post: invite your friend to come here!
Here the START scene if you want to follow the tutorial, and the FINAL to check the options:
Share & Enjoy!
Ciro Sannino
V-Ray Licensed Instructor – link
---
SUBSCRIBE AND ACCESS 10 Interactive Courses for 1 year!
During this period a V-Ray Licenced Instructor® will be available to help you with trainings:
Read all info about 1 YEAR GOLDÂ > CLICK HEREÂ 
/ Also
Learn Corona Renderer