Share
with your friends!
Do you remember how easy is Caustic setup? I talked about in this post: V-Ray caustics in the pool.
With exterior pool is easy getting nice caustics because we have a strong and focused light: the sun. How to achive a similar result using a diffuse light like V-Ray light?
It's really hard. V-Ray light shoots photons everywhere (at 180°) so we need a looot of subdivisions to get a valuable result.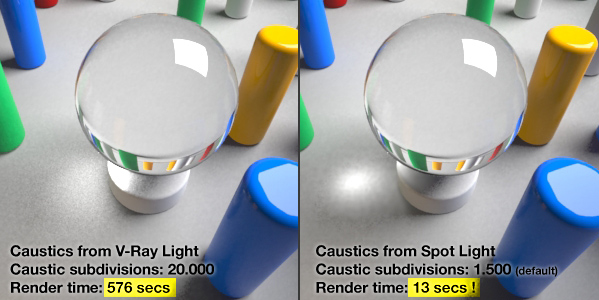 Lots of subdivisions means lots of time: 20.000 subdivisions need around 10mins to render this simple scene (left image). But there's a trick to render this scene in few seconds!
Free sample Premium content.

Split light and caustics in 2 different sources:
a V-Ray light for normal lighting
a standard Spot Light just for caustics
The spot light is perfect to focus caustics in a specific area. Above you can see the image on the right, rendered in only 13 seconds. It's pretty the same way that Ricardo Eloy in this tutorial, I just changed some little thing and did it in few minutes.
Of course this is a sort of fake solution, because diffuse lights can't produce strongs caustics. Anyway this method can help us to get a really nice effect.
Watch the video, download the file below and complete the exercise!
VIDEO :
VIDEO-SUMMARYÂ :
Disable caustics for V-Ray light
Add spot light (multipl. 1.000.000) and exclude everything
( Make V-Ray light invisible if the spot is behind it )
Enable caustics
Clic render and wait few seconds 🙂
EXERCISE :
Now, download this file and repeat the exercise.
For any doubts check the "FINAL" version file.
Enjoy it.
/ Also
Learn Corona Renderer