Share
with your friends!
Here we are for the first post about 5-Step Render Workflow® :
our complete method to manage render process in 5 easy steps.
The 1st step is about preparation, a sort of check-in, it consists of easy concepts which often people don't care about creating a lot of problems impossible to solve later on. Let's get started.
.
.
5SR-WORKFLOW: Check-in / Step 1
First don't forget the 3 MAIN rules you'll never break:
Never do anything that does not exist in the real world
Always use 1:1 scale models
Place the lights as if it was in a real photo studio
The step 1 is the set up of the job: a great final result is always related to a good preparation. Check your models, find good textures, especially find good images to use as references. ( Read the introduction to V-Ray Mini Course )
So let's move to 2nd step: LIGHT BALANCE. I'll show you how to manage it easily: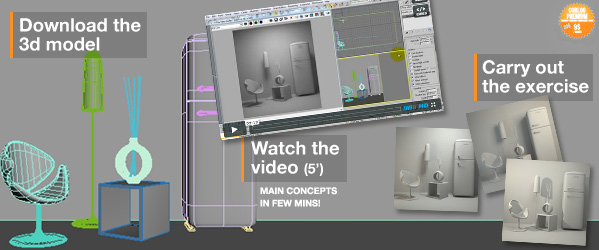 .
.
5SR-WORKFLOW: Light Balance / Step 2
Light Balance is one of the most important steps. If you can't find a good light balance don't move away! Work on it until you have a good one: find a good light balance and your final render will be great, that's for sure.
The process is based on a light Herarchy. it's really simple, watch the video:
Our contents are created only by V-Ray Licensed Instructors®
To access this lesson and all premium contents, please
Login or Subscribe