Share
with your friends!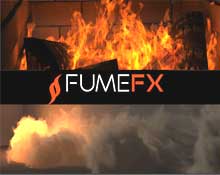 FumeFX, a great plugin produced by Sitni Sati, is a powerful Fluid Dynamics Engine designed for the3d simulation and rendering of realistic fire, smoke, explosion, and other gaseous phenomena. It's versatility, robustness, and intuitive workflow make it a perfect solution for even the most demanding tasks in the computer graphics industry.
The core in named VoxelFlow and it allows to reproduce physical phenomenons dividing the space in cubes called Voxels. Every cube is exposed to many forces and his movement is the result of a combination of physical forces, such as buoyancy, gravity, and pressure, and user defined forces.
No more details for now, just you know that the last release works for V-ray and FinalRender too! So interesting isn't it?
But, how it works? Could I see some video showing me the basic settings?
YES of course!!
– LOOK AT MY Recent POST ABOUT FUMEFX