Share
with your friends!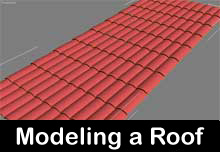 Neox, an user from Treddi.com (italian forum), realized a videotutorial showing step by step how to model a tiled roof with 3ds max.
Modeling this kind of Roof is a very annoying thing, becouse in order to abtain a beautiful model you have to model tile by tile and you can't use bump mapping or Displacement to obtain a good result.
In these 2 videotutorial you can see how to model one single tile (with a simple box + ben modifier) and how to put the tiles in a roof (Array function).
In the 2° brief videotutorial, you can see how to use Multires modifier to control polygon reduction without lose a good quality model.
Even if the forum is italian the videoturial are international… without speaker, just enjoy seeing it!