Share
with your friends!
Roofs: I hate wasting time building them! Put all the tiles can be exhausting, although virtual! I really don't like losing precious time, for a process that could simply be automated.
A popular plugin for this kind of applications is Roof Designer. A tool and extremely well done.
But lately I've been able to try ATiles, a free script, really fast and easy to use! IÂ strongly suggest you install and try it: you will be wondered for simplicity and speed with which
can play your roofs. But not all, with this script you can easily build even floors, walls, fences .. a lot of things.
Every object could be replaced with your customized object: what are you waiting to install it? 🙂
As just one example, the roof down, I realized it (slowly) in 5 minutes! It 's a script to definitely install! 🙂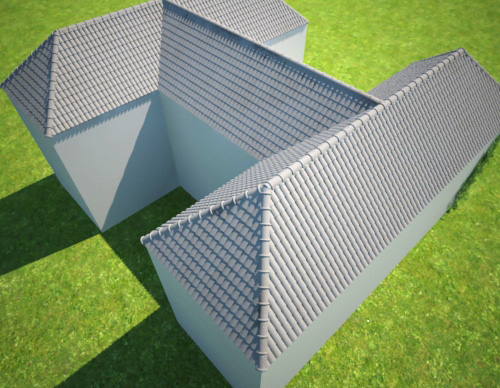 -Â INFOÂ ANDÂ DOWNLOAD
All the infos on the script can be found here: AVizStudio Tools> ATiles (also download)
The script can be run directly from the menu:
MAXScript> Run Script …> AvizStudioTools_ATiles.mse
Or it can be installed by copying the downloaded file in:
C:Â /Â programmi/autodesk/3dsmaxXXXX/scripts/startup ( I prefer!)
In this case, after you restart 3ds max, I find him among the instruments of creation:
In the following video you'll see how it is possible to create many other interesting things with this great script. Watch the video!
Note:Â While picking third point hold ALT to automatically change the tilt angle base on the snapping point. It's a great tip!
(Also download ATiles script from here)
/ Also
Learn Corona Renderer