Share
with your friends!
When I work on a rendering I apply a personal workflow. It's nothing secret or special, but it's helpful to me and for every person who was in my trainings. I usually have 4 steps. They help me to keep track control the evolution of the work:
Balance of Lights (with default material)
Exposure correction (after the application of texture)
Adding reflections (Glossy and not glossy)
Final rendering setup
I figure out these 4 steps as a hill to climb:
A very hard start, a point of verification, and finally an easier way down.
The start is brief, artistic and complex. The conclusion is longer, technical and easier.
The 1st step it's "only" about putting lights in the scene. You have to decide the primary light and consequently add the secondary lights, fill lights and so on. I usually use the V-Ray default material  (equivalent to Kodak 18% gray).
This is - from a technical point of view - the easiest step. There are few parameters to control, but it is artistically the most complex step. This step is really hard for the people who are very good with the only parameters! Yes, because the "parameter control" is not the main topic at this step. The most important topic is the way the lights are related to each other: Light Balance. Artistical people are advantaged.
A great light balance make the image "more" 3D! It creates volumes and depth in the image. A bad light balance make everything flat.
The light balance is the foundation of the image, if the foundation is not strong the building is always in danger. But if the foundation is great you can add materials, backgrounds, lights, you can play with the parameters: the result will be always fine.

Here my advice: make sure that the light balance works fine before proceeding. Try also the second step (adding textures), sometimes the colors help the contrast, but never go over if the image does not work! In my experience as trainer I know the problems in 90%  is in the beginning: light balance.
Everyone knows: good morning starts in the morning.
*

Check the videotutorial, donwload a sample scene a repeat the exercise.
Learn how to model a scene using the lights.
Our contents are created only by V-Ray Licensed Instructors®
To access this lesson and all premium contents, please
Login or Subscribe

*
EXAMPLE: from Francesco Romanucci (student) – Light balance is OK! – (Â click to magnify )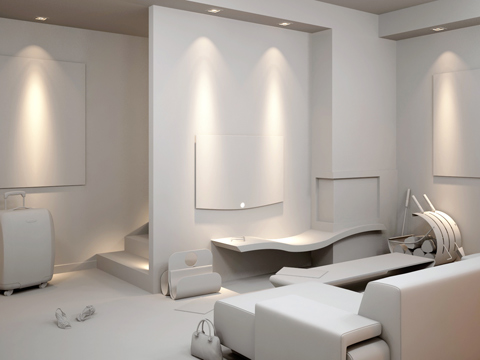 *
In the following Final render, Francesco just added materials: lighting is the same – (Â click to magnify )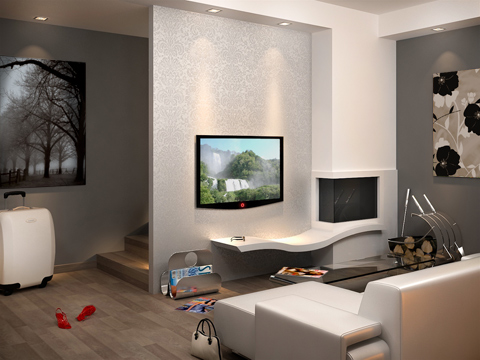 CONCLUDING
As you can see, the illumination in the two images has the same distribution. After complete the light balance, just add the materials and the render is finished in brief! My students knows that the shading is not so complicated: 1 day leargning. That is not the problem: The crucial point is the light balance.
No parameters can help you, just your imagination.
/ Also
Learn Corona Renderer