Share
with your friends!
I really hate to talk about options and parameters.
Understanding through the parameters seems to me a great bullshit. It's necessary to deeply understand things, then just apply to the software.
That's because 90% of this article is devoted to a simple explanation of what the depth of field is and what it depends. The softwares does not invent anything new,  once you understood the fundamental issue so the application will be really simple.
* * *
For each picture there is just one place where the photo is perfectly sharp. There also is a space in front and one behind the subject, in which blurring is so minimal as to be imperceptible.
Outside of this space objects start to appear increasingly blurred.
This space is called Depth of Field and the objects in this space appears perfectly sharp.
WHAT DOES AFFECT THE DEPHT OF FIELD?
There are 3 importants things:
Focal lenght
Distance from the subject
Aperture (f number)
How to increase Blur DOF effect?
Using a bigger focal lenght
Reducing the distances from the subject
Decreasing F Number
If you already fixed your camera/view, the only way you have to give a strong DOF effect is decreasing F Number, but there is a problem: more light will came!
So, how to balance this phenomenon?

You can follow 2 ways: "Exposure values" using tables or Intuitive way like this special video below!
Watch the Video , download the Files and complete the Exercise to fix the concepts.
Our contents are created only by V-Ray Licensed Instructors®
To access this lesson and all premium contents, please
Login or Subscribe

You can also do the same using  EV (Exposure Value)
Basically the amount of light entering in a lens is the result of two factors:
F number (the aperture)
Shutter speed  (expressed in thousandths of seconds)
In this table "f" and "shutter speed" are associated with a number (EV).
Keep EV value constant and you will get the same brightness! C'est facile! 😉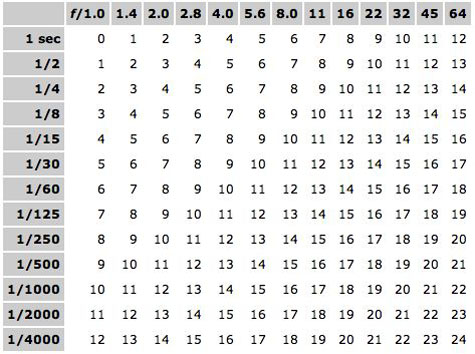 PRATICAL SCENE EXAMPLE
I completed my settings and I have VRay Physical Camera with: f=8 / Shutter speed = 250.
In the table  I can read the EV is  14. (image below)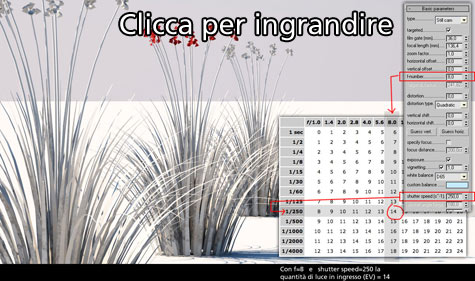 (Rememebr: Our goal is to keep EV constant!)
Do you want to get a blurred image? (I know you like thaaat!) if I decrease  F number = 4 I have to check in the table the right Shutter speed value in order to preserve EV=14
The right values is Shutter speed = 1000 (Click image below)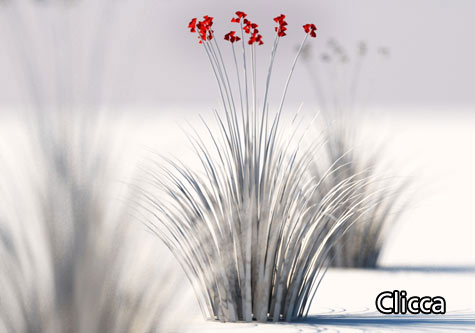 ( F=4 and Shutter speed = 1000 will keep EV = 14 and the brightness will be constant! )
It's easy: I told you! 🙂
Now just flag depht-of-field (in V-Ray Physical Camera object)Â and remember that "subdivisions" affects the grain coming from the Dof. High values (30-40) will give a better image but the rendering time will increase drammatically.
Remember that the distance where we  have the perfect focus will be determined by the VRayPhysical Carmera TARGET.

For the application I used V-Ray but the concept is the same for any software simulating a real camera.
Last good news: these concepts are also valid for your REAL Reflex!
Have a good rendering!
/ Also
Learn Corona Renderer