Share
with your friends!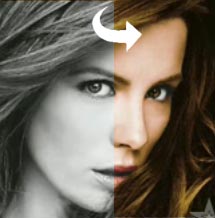 How to add color to grayscale photos using curves in Adobe Photoshop?
Would you like turn your blac&white photo into Coloured one? Ok Let's start with this nice tutorial:
STEP 1 : Clean up the image as best as you can (remove scratches, dust, etc..)
STEP 2 : Convert the image in CMYK – This is an important step
STEP 3 : Make a selection of an area using quick selection or any other tool you prefer. Each part of the portrait will have a separate mask (skin, hair, lips.. ect..)
STEP 4 : Nopw create an adjustment Layer
STEP 5 : Fix some discoloured outline using the Blur filter
I tried this method with some pics of mine and the results looked very, very good!
Consider my text above as a memorandum and see the video below to watch how to do that! Enjoy it!!
Special thanks to Kainoa03 for this tutorial!
/ Also
Learn Corona Renderer