Share
with your friends!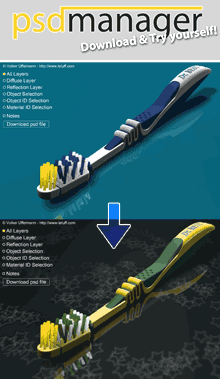 I hope you liked my article about PSD2Mat so today I'm going to write something about another very useful plugin: PSD Manager.
PSD manager is a plugin produced by Cebas for 3d Studio Max/Viz that allow to export a layered rendering directly in a Psd file format: one channel in one layer… ready to be opened with Adobe Photoshop.
Typical situation: You have your layered rendering with diffuse channel, refractions, reflections, some meterial ID ect.. If you are rendering for an animation probably these frames will be computate with After Effects, Combustion, Shake or something else.
But if you are working for a still image then you can use Photoshop to compose your image. Using PSD Manager no more time will be spent to create a psd file manually!Psd Manager will create it automatically.
To appreciate the power of compositing have a look on this composited brushteeth, after everthing will be clear! Here some link to learn more about Psd Manager:
Psd Manager is produced by Cebas. Purchase it for 150€.
/ Also
Learn Corona Renderer