Share
with your friends!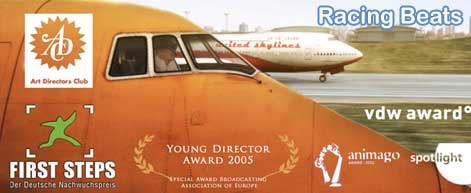 Who doesn't know it, car drivers provoking each other at the traffic lights to have a race? But what about such a race with two old and shabby jumbo jets on an airport runway? That sounds more like a film – or a computer game.
That's the short movie Racing Beats, it has gone on to win many prizes like Animago and Young Director Award 2005.
The film is from two graduates of the Institute of Animation Filmakademie, Steffen Hacker and Alexander Kiesl, it was their diploma film and a fictitious commercial for Microsoft Xbox.
At the beginning ther's no idea to make a commercial or using 3d and compositing image technics, but developping the story they was necessary: with computer graphic you don't need permission for filming at the airport!
If you don't see it yet it's the right moment. Enjoy it:
What do you think about? It's so funny to graduate in this way… isn't it?
/ Also
Learn Corona Renderer