Share
with your friends!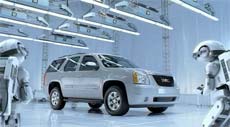 This is a very beautiful spot made by The Embassy, the same VFX society who made the Citroen C4 spot.
This time we talk about GMC Yukon spot.
Two funnies robots, totally in cg, are walking around Yukon laboratories then they see this awesome car: the new Gmc Yukon! Very nice to watch.
I especially like when the robots explore the car as an alien spaceship…
/ Also
Learn Corona Renderer