Share
with your friends!
Here we are for another post about 5-Step Render Workflow® :
our complete method to manage render process in 5 easy steps.
The previous step was the crucial Light Balance, now it's time to add colour: how to create materials quickly.
5SR-WORKFLOW: Materials / Step 3
In this video we will apply the general rules from the Mini course – Lesson 8. Also I will show you how to enhance reflections easily with a "soft" V-Ray Light.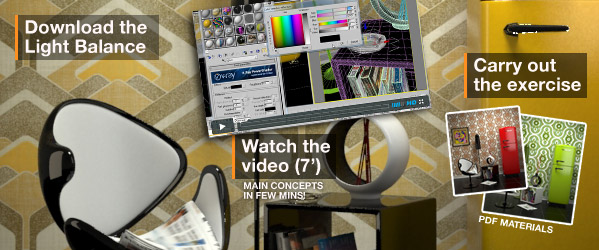 VIDEO
This step can be split in two parts:
assign colors (diffuse + textures) and check if lighting is still fine
add reflections and refractions
Your time is money!
To make a shorter video, every "book model" is already mapped (it's just a simple texture) and below you also find a Pdf guide to download, with all material settings.
Our contents are created only by V-Ray Licensed Instructors®
To access this lesson and all premium contents, please
Login or Subscribe