Share
with your friends!
Greeble is a nice & free plugin and I invite you to visit this amazing Greble gallery!
It is easy to use but it has a strong impact on your scenes increasing considerably
object details with a few clicks.
Greeble instalation: so easy! (-:
Download the plug in from official the site
open the zip file
select the file to use related to your windows version (32bit or 64bit)
Copy the file in the 3ds max plugins folder
( usualy the path is C:\Programmi\Autodesk\3ds Max 200X\plugins )
Done! Now just open 3ds max and…
How to use greeble plugin?
Create – as usual – a teapot:

Keep the teapot selected and clic on Modify tab. Scroll down the modifier list looking for Greeble. Clic on Greeble.

You'll see the teapot change at once. The changes that we can see are the result of the parameters that Greeble was set by default.

Here the panel to control Greeble effects. Don't worry, the parameters are really simple to understand.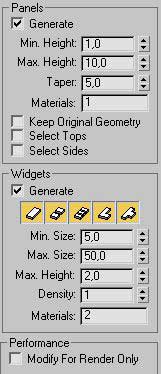 You can easily change the maximum and minimum height of the new details, the density of the details themselves, the rastremature, the size and type of detail you want to create.
The effect that Greeble has on the teapot you see in the 3rd immagine is also related to the number of segments of the teapot itself (see box red in fig1). 4 segments in this case. Change the teapot segments and see the final results change.
Just increase this number to see grow so impressed the amount of "greeble" on the surface of our object.
But beware! With too much 'greeble' the PC could suffer and maybe crashing! Do not worry, tick the last option: Modify for render only to leave the viewport and see the effect only in the final rendering.
> Visit the famous Greeblelicious Gallery and have fun with Greeble!