Share
with your friends!
(Warning: the following post's related to 3ds Max, but is applicable to any software provides polygonal modeling)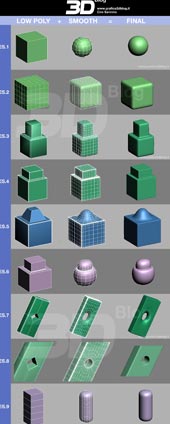 Among the 3ds Max modifiers, there is one – EDIT POLY – that rather than a lot of parameters, in fact there's a "world" behind: the world of the polygonal modeling!
Polygonal modeling (nurms)  is an approach for modeling objects by representing or approximating their surfaces using polygons and 3ds Max especially  works in this way.
One of the most important things is to assimilate the "combination" of 3d low poly models with modifiers like MeshSmooth or TurboSmooth in order to get smoothed objects.
The typical application is: Primitive Geometry + Edit Poly + Meshsmooth (or TurboSmooth)
But the most important thing is to understand << What polygonal mesh I need to get the 3d model I want?>>. (Is supposed: "using meshsmooth modifier").
My last sentence is crucial, so you I recommend you to read it again carefully: it is the focus of polygonal modeling. (I feel sorry for my poor english)
In this article will not explain how to handle technically the Edit Poly because there are tons of tutorials and videotutorial too.
I have prepared an image that I call TABLE'S SMOOTH because it contains 12 examples of basic items: they are what you get adding a Smooth modifier to a Low Poly model.
Observe my "table": I hope it will help you to develop the awareness you need in order to get the smoothed object you want.