Share
with your friends!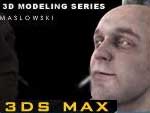 Organic modeling: Hot to model a head with 3d studio max.
CGIndia introduced an useful and Free video tutorial for 3ds Max Users. The video tutorials is created by CG Artist Eric Maslowski who shows how to Create Realistic "HEAD" using 3d Studio Max.
This series of tutorials goes over the process of organic modeling in Max in great detail and the 1st part covers 3d modeling of Head.