Share
with your friends!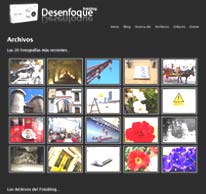 Thanks to wordpressmania.it I have knew an interesting WordPress Theme very useful to create a personal portfolio.
It's a theme that convert wordpress in a Photolog. You just have to install wordpress (wordpress.org for any reference ) and after you simply upload Desenfoque theme.
Here the link and… good portfolio to all of you!
[tags]wordpress, 3d gallery[/tags]
/ Also
Learn Corona Renderer